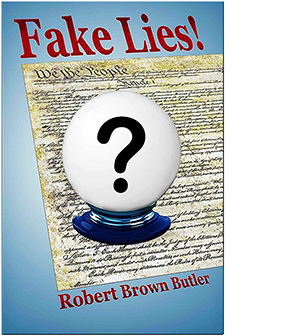 In a mystery the likes of which Agatha Christie would struggle to match, Hod Hawksbill, a retired journalist who limps on a cane that contains a powerful digital antenna that can record the President's Oval Office conversations from outside the White House. Lurking as a leaker par excellence, Hawksbill reveals how President Conan Cain uses his office to make billions of dollars, how he betrays our country to our most menacing global enemy, and how his closest allies grow to despise him and try to assassinate him —while De­mo­cracy totters as an innocent bystander. Hawksbill's cease­less sleuth­ing steers our principled but perishable democracy from being ruled by a money-hungry despot and his wealthy cronies.
      In this intimately immersive saga you'll feel like you're a character in the story, that you are playing a supporting role in the unfolding of the plot. As the opaque becomes clear, you will see your deepest desires mirrored in our nation's most elemental underpinnings. For make no mistake: The freedoms spelt in our Constitution are more than emotionally ennobling: They foster a prosperous comity in our citizenry. End these freedoms, and the prosperity we have known for decades will end. 
SELECTED PASSAGE
"Here it is pertinent to ask, why is all this so relevant in light of the present debate? It is this, Mr. Boister. When faced with the tensions of the day, it is exceedingly difficult for one to imagine what life was like in this nation more than two long centuries ago, when our citizenry in the space of one decade became manacled by a repression administered from the far side of the Atlantic. When We the People finally said we have had enough, it took seven long dreadful years of bitter war to restore the freedom they once enjoyed. Imagine our citizenry today having to endure that same dreadful span of shackling and slaughter all over again! Here our forefathers had an advantage over us: They learned of freedom by having to endure its opposite. As such we do not know it so well, so we are not so aware of its benefits and what we would lose by its absence. But we can learn much of our forefathers' sufferings by reading their histories and experiencing by association how they struggled to replace the fright of repression with the joy of freedom. Then We the People of today may come to ask: Is the mere removal of one evildoer so small a price to pay to discourage years of horror involving millions of our numbers from happening again? This is what we servants of our citizenry have been deliberating for three seemingly long but in the great scheme of things three very short weeks. "So I end by saying to all of my esteemed colleagues seated in this august chamber: Several years of history may be condensed to a page in a book, but history is written every day, and today is one of its epochal days!"
REVIEWERS' ACCOLADES
Since Fake Lies! was only recently published it has yet to be reviewed. Would you like to be the first?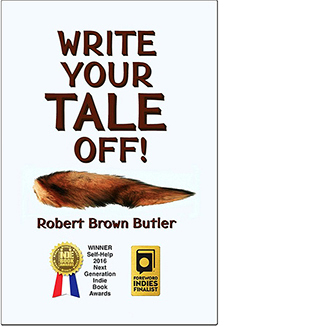 LOVERS OF WRITING, here is an excitingly new way to write well. This handbook gets straight to the core of what it takes to write lively prose: How to create some fifty common literary devices whenever you want. This volume dissects each device into its elemental parts, defines each part, and details the telltale clues that commend its use so clearly that you'll know how to coin the device the instant your literary labor calls for it. Repeat this technique fifty times, and you have a literary tool box filled with such masterly chapters as … Increase Verb Density … Reveal Truth with an Unreliable Narrator … Draw the Reader in by Leaving Information Out … Add Meaning with Sentence Fragments … Paint Pictures with Words … Convince by Reasoning with Logic … Write Lively Dialog … and dozens more! With this book close by, instead of clumsily wondering what to write next you'll adroitly know how to compose each line —whether you are writing a note to a friend, an article for a local newspaper, or a book that could win a Pulitzer Prize. Each lesson also includes one or more passages by usually famous authors that exemplify how to use each literary device to greatest effect. These passages archive some of the finest examples of English literature and they alone are worth the book's price.
SELECTED PASSAGE
… From Entertain with Humor: See the sample page above.
REVIEWERS' ACCOLADES
This book should be in the hands of every Chairperson of English throughout the colleges and universities in this country and elsewhere.
… Dr. Joseph Maresca, Amazon Reviewer
This is one of the best guides for writing that I have come across, as useful to me as Stephen King's On Writing, Elmore Leonard's 10 Rules of Writing, William Zinsser's On Writing Well, and Sol Stein's Stein on Writing.
… Andy Anderson, Amazon Reviewer
With minor editing and professional promoting,
I believe this book would sell well to the general public.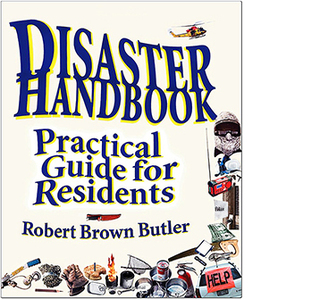 Here the delight of defeating a disaster awaits you . . . .
        This companionably written practical guide describes the vital foods, tools, and other "calamity commodities" you will need when misfortune comes knocking on your door.
        It addresses a disaster's biggest danger —that even more than destruction, such events can prevent you from performing those everyday tasks that keep you alive: How to cook, wash the dishes, clean your clothes, bathe, go to the bathroom, and keep everything sanitary when you have no power or pure water. These are the links that in a time of trial form a chain of survival.
        It insists that to overcome a disaster you needn't be young or strong. During two major disasters the author lived through he performed many tasks appearing in these pages when he was past the age of seventy. Absent youth and strength, he exercised the kind of creativity and cleverness everyone has regardless of age, strength, or gender.
        It declares that you do not need weapons, wilderness survival skills, or knowledge of hand-to-hand combat to live through a disaster. When facing these challenges, far more citizens realize the need for friendship and teamwork and try to help each other, and would rather be known as Samaritans than Survivalists.
        It asserts that the part of your home or workplace that will serve as shelter during a disaster must be nearly indestructible. For what use is it to have all you would need in a time of peril if where you would keep and use everything is destroyed? Hence this reference details how to convert a strategic part of your home or workplace into safe shelter with architectural drawings you can take to a professional designer or builder.
        You would think everyone would want to know these things. But many people have seen so many disasters in the news that they panic at how the iron claws of calamity could pounce on them with the stealthy power of a cat on a mouse. "Disasters scare me to death!" they cry. "I don't want to read about them!"
                          This book has come to take you away from all that.
        It has come to dispel your fears, and release you from the grip of terror, and remove you from the deadening effects of indifference —so you can flip that switch of initiative that will energize your imagination and arouse your powers of vigilance in ways that will tilt the odds of danger from being forever against you to being always in your favor. Then you can hue from the quarry of solid knowledge and firm confidence a course that will lead you, your loved ones, your neighbors, your business colleagues, even strangers whose fate is woven with yours, to dwell in reasonable comfort and safety in nearly any disaster you may face, until better days return. The price is small but the rewards are great. They are munificent, they are manifold, and they are measurable, as the pronouncements of these pages aver.
        If you and your family or friends would buy every item and perform every chore this volume recommends, you will find this labor to be enlightening, efficient, inexpensive, and even loads of fun —when done in advance. This fifteen-ounce book is smaller and thinner than a folded shirt, so you can toss it in a carry-all, slip it under a car seat, or set it in a desk drawer where it will be nearby when you may need it most.
        Though every disaster that covers a large area and claims a number of lives is different than every other, each has three elemental phases: Before, During, After. Hence this book is divided into three parts …
        Before covers when you are able to methodically prepare for whatever may transpire.
        During spans the time between when a disaster begins and when its ravaging ends.
        After begins when the disaster is over and ends when all is reasonably restored.
•••••••••••
        In addition to the 52 drawings I prepared for this book, I took more than 500 small photos, enhanced them in photoshop, and composed many into multiphoto illustrations that appear throughout the book.  
This book has won nine literary awards.
In the drawing above, I assembled 12 separate small photographs (the plunger was one, the rags were another) into one coherently photorealistic visual image. The drawing's left edge is slightly curved and the related text hugs the curve. I designed the typeface used for this drawing's title and notes.
SELECTED PASSAGES
What is your biggest danger in a disaster? Destruction? Nope, your biggest danger by far is disruption. Death and damage may make the news, but in almost every disaster far more lives are disrupted than destroyed. Wit­ness the tornado that swept through Joplin, Missouri, in May 2011 and killed 158 people. The path of death was less than a mile wide and only 22 miles long —but within thirty miles of this streak of calamity 160,000 citizens who suffered not a scratch and whose homes or workplaces experienced not a dime of damage were profoundly disrupted by the carnage, loss of power and water, suspension of civic services, closed roads, and empty gas pumps and store shelves. This is why you should prepare for disasters. If one kills you, you don't need this book —you need an undertaker. But for that other ninety-nine percent of the time when you may be distant from a disaster's destruction and suffer nary a scratch to your person or your premises, you may desperately need to fend off such dreads as eating poisoned food, drinking polluted water, becoming feebly infected from a simple cut or burn, enduring hours of darkness between dusk and dawn, or being trapped by fallen trees and debris in every direction. Then this book's seeds sown in savage ground may bear merciful fruit.
REVIEWERS' ACCOLADES
I've read literally dozens of books on the topic, and without doubt, Robert Butler's 214 page guide is the best, most realistic, most experienced step-by-step guide to anticipating, surviving and recovering from a wide range of natural disasters I've ever read. As an architect he naturally addresses protecting and preparing your home, because if your home and your gear survive, you will survive. This book is instantly accessible by topic, in-depth but not dense, is easy to follow as an emergency first aid manual, and incredibly comprehensive.
... GB, Amazon Reviewer

Robert Butler approaches disaster preparation with a tremendous amount of practical skill and logic, breaking preparations down by time frames: Well Before, Days Before, Just Before, Suddenly, During, Just After and Well After. His advice on all fronts is terrific.
... D. Buxman, Amazon Reviewer
With minor editing and professional promoting,
I believe this book would sell well to the general public.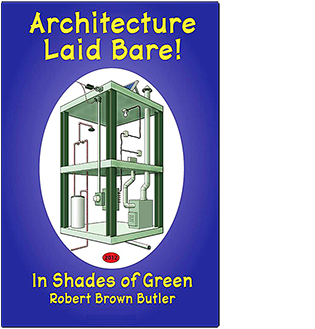 With this 456-page reference in hand, you will borrow the brains of one of America's foremost authorities on architecture in ways that will make your interior life more comfortable, economical, and trouble-free. With every roof you live and work under, this thick book will help you fix old problems, keep everything running smoothly, and fend off future problems before they occur. Among dozens of other things you will know how to make a room smaller and more comfortable at the same time, how to choose the best lighting for every area in and around your house, how to make your home safe from fire and other dangers —and instead of cowering before architects and contractors you will rule them. This little Britannica further explains what green architecture is; hence its subtitle is In Shades of Green. As such this recycled chunk of lumber also describes how to harness any solar, wind, and other natural energies that may be floating around your house, and how our society can best achieve a sustainable architecture in today's ecologically ravaged world. Given the twists and turns of time, this hefty reference could save you its selling price a thousand times over!
The drawing above exhibits several of my "trademark" visual techniques.
It combines a plurality of separate photos to create a "collage" of the desired effect.
The typefaces used for the drawing's lettering are two architectural lettering typefaces I designed. These faces are the finest architectural lettering fonts ever designed. I invite you to compare them with any other.
Note how the drawing's right side is curved and the related text hugs the curve; this not only saves page space but the curve descends in a manner that "alliterates" the direction of rainfall runoff in the drawing. Here the nature of the drawing's subject "told" me to format the drawing and its text this way. This looks much nicer than would the usual "box" drawing and "box" text block. Even your best publishers will rarely do drawings like this because they can't budget the time it takes for their artists to do such laborious work (I spent four hours doing all the little things it took to compose this one visually rich drawing).
I located the drawing's related text beside the drawing. Sometimes this is very hard to do; because if the text appears before the page of the drawing I will add more text to "push" the related text onto the next page until it appears beside the drawing, and if the text appears on the page after the drawing I will subtract previous text to "pull" the related text to beside the drawing. Sometimes this requires me to revise the text, and all this synchronizing of visual and verbal information can take a lot of time —again, labor most publishers will rarely budget their staff to do.
SELECTED PASSAGE
Another tip for owners about to embark on any construction project, large or small, is to keep a Book of Entries. This is a record of every material delivered and every hour of work performed, as suggested in figure 2-11. If you can't obtain the listed information from the contractor, insist, if you can, that s/he keep a similar record for the project, and insist, if you can, to be allowed to examine it when you want. Better yet, you keep such a record and have the contractor keep one, and compare them occasionally, perhaps during weekly conferences. This is one of the most thorough ways an owner can show an interest, keep informed, be involved, and have the confidence to assert oneself when necessary. Also if any construction or legal dispute arises, you can present before a judge a record of all that transpired.
The drawing below is an example of "pure art" in that I created a convincing three-dimensional visual scene with nothing but patches of black and white. Also note that the picture frame is not rectangular but slightly trapezoidal, which accentuates the illusion portrayed; i.e. "Function is the nectar of aesthetics." I also designed the typefaces for the text and the drawings.
REVIEWERS' ACCOLADES
Architecture Laid Bare is more than just a great book for demystifying the entire architecture process for the layman. Butler writes in a convivial, conversational style that makes even the most technical passages easy to digest. He also peppers the text with anecdotes and stories of his colorful and exciting life. These stories help illustrate the concepts and techniques Butler discusses, but also make for entertaining reading all on their own. Also filled with detailed illustrations and fascinating photographs, this is as complete a book on architecture as you could ever want, whether you own a home or not!
... AVB_NY
Architecture Laid Bare is a testimony to the highest standards of journalism, home construction, and brutal honesty. For example, I was shocked to know about the high amount of formaldehyde in new pressed wood products in new homes. I also found Butler's advice ingenious for new home owners. Additionally, I loved the section on Acoustics and the suggestions for eliminating sound in an outdoor area. I highly recommend Architecture Laid Bare to every homeowner who wants to have a healthy home, save money, and live a green lifestyle.
... Luv2Read, Amazon Reviewer
With minor editing and professional promoting,
I believe this book would sell well to the general public.
TITLES OF BOOKS
1. The Power of Babel: Typeface User's Guide for BuBabel, © 2004, 98 pages.
2. BuLletin Typeface User's Guide: A Headline Version of BuBabel, © 2004, 56 pages.
3. BuSabreur Typeface User's Guide: A Serif Typeface, © 2004, 82 pages.
4. BuMonde Typeface User's Guide: A Sanserif Typeface, © 2004, 84 pages.
5. BuEuclid Typeface User's Guide: A Greek Letter/Math Symbol Typeface, © 2004, 88 pages.
6. Bu2H/HB Typeface User's Guide for Bu2H & BuHB, Two Architectural Hand-Lettering Typefaces, © 2004, 88 pages.
7. BuNovelty Typeface User's Guide, Seven Novelty Typefaces, © 2004, 32 pages.
      During my earliest architectural days, whether in college drafting rooms or commercial offices, every plan I drew was blanketed with notes in which every alphanumeric sign and symbol was drawn by hand —my hand. Drafting these atoms of communication roused in me a fascination with how their rows of pencil-thin lines and arcs could evoke the subtlest cerebrations of anyone who would read them. This allure quickly extended far beyond the perimeter of any plan I drew to the most distant realms of script I could find —from medieval manuscripts scribed by monks to modern wedding invitations penned in florid script. Whether inscribed on parchment or vellum, these hair-thin pennings by tiny nibs engendered in my mind an enduring fascination with typography.
      Then came computers, which supplanted lettering by hand with lettering by keys, and nibs went by the way of the buggy whip. How often as I fingered those keys did I dream of authoring perfect specimens of each letter —that instead of repeatedly and meticulously laboring over the lines and curves of each as in the days of yore, with one concentrated effort I could create a perfect exemplar of each; then I could compose lines of lovely letters with the slightest taps of my fingers till the end of time.
      Hence I came to design a number of typefaces that would express my cerebrations as I chaired my hands before the keys. To easily recall my crafted ciphers' strokes and uses, I authored seven thin guidebooks. Little did I care if no one else noticed: this was a quest between me and my maker.
A SAMPLE OF EACH TYPEFACE

TITLES OF BOOKS
1. Architectural and Engineering Calculations Manual, © 1985, 464 pages.
2. Standard Handbook of Architectural Engineering, © 1998, 1,070 pages.
3. Architectural Engineering Design: Structural Systems, © 2002, 722 pages.
4. Architectural Engineering Design: Mechanical Systems, © 2002, 812 pages.
5. Architectural Formulas Pocket Reference, © 2002, 514 pages.
6. The Architectural Engineers' Platinum Edition includes the entire Standard Handbook of Architectural Engineering in both print and electronic formats plus a CD of more than 900 computerized formulas.
These references enable architects, designers, engineers, and contractors to select and size virtually every functional component (beams, columns, pipes, wires, ducts, and so forth) that exists in almost any building from shed to skyscraper anywhere in the world. Each thick volume bulges with hundreds of informative ink drawings, tables, graphs, and schedules; they include chapters on design, structure, climate control, plumbing, electricity, illumination, and acoustics; and the text for each component describes the essential criteria for its design, gives the formulas, and explains each unknown. Best of all, volumes 2, 3, and 4 include computerized disks that enable a user to solve each equation with lightning speed. With this instant consultant in hand, no longer will you need to perform tedious calculations, refer to shelves of other texts, or relearn subjects forgotten long ago —and you'll do a day's work in an hour.
SELECTED PASSAGES
This volume's method of selecting and sizing virtually every functional component in a building promotes all that is beautiful in architecture; for the truest beauty results from doing what is supremely appropriate and the subtraction of all else. Take the caryatids of the Erechtheum in Athens, perhaps the loveliest columns ever devised: Only when each slender feminine waist was given the slimmest section that would support the mass above could these graceful forms transcend the bland loyalty of posts to become a beauty so supreme that they hardly seem like structural supports at all. Such functional modeling is all a building needs to be beautiful.
This volume emphasizes environmentally appropriate architecture whenever possible. There is a vital reason for this: the wilderness ratio, which states that every urban square mile requires about fifty square miles of wilderness to purify its air, recycle its water, absorb its wastes, modify its climate, and provide a substantial portion of its food and fiber needs without economic cost or human management. This ratio indicates that we all must preserve nature as much as possible —not so our children may enjoy its serene majesty someday, but simply so they may breathe.
REVIEWERS' ACCOLADES
Of Volume 1:  An amazing book! For a nearly pocket-size book it is incredible how much it covers —everything from sizing bolts in a beam connection to escalator capacities. I would often try to think of things it might not cover only to be pleasantly surprised when it did cover them.
      ... Stephen Martinson, Amazon Reviewer
Of Volume 2:  Excellent resource for professionals who need ready access to common architectural design issues. Provides excellent empirical techniques not available in academic texts. Real time saver.
      ... Johnny Elliott, Amazon Reviewer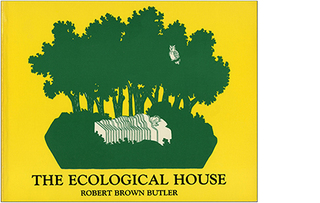 The Ecological House is a practical and philosophical tour de force, a thought-provoking and possibly lifesaving book, with a multitude of new and environmentally imaginative solutions to the diverse and interrelated problems of housing. This lively, topical, dramatically illustrated, and often poetic book will substantially enhance your quality of domestic living —from locating a house most advantageously on its site, to designing its interior spaces most efficiently, to enclosing its spaces with economical and durable materials, to minimizing the energy that would keep you comfortable year-round. Here is everything you ever wanted to know about the house you may dream of having at an affordable cost in these environmentally challenging times.
SELECTED PASSAGES
A house should be as much as a habitat to man as the den is to the fox and the nest is to the sparrow.
Suppose you built a two-car garage onto your house. Forget about putting any cars or other possessions in it. Then you heat or cool the space to the same temperature as the rest of the building all year long. Pretty wasteful, eh? You'd never do this in your house, would you? Yet in most houses throughout the country, owners are doing exactly this right now. For if you add up all these dwelling's wasted spaces —their useless corners, unused crannies, long hallways, excess doorways, seas of circulation around islands of furniture, two-floor tall volumes, cavernous attics containing little more than air, and full basements in which reside little more than spiders and mildew— the volumes in each would probably be bigger than a two-car garage.
Weaving materials others have thrown away into useful and even elegant shelter may strike some as undignified; but scavengers are among the most successful creatures on earth —as it is not the mighty dinosaur or mastodon who has survived through the Ages, but the foraging buzzard and shark. To these creatures carrion is commodity. Such recycling not only removes litter that clutters our landscapes, it reduces the damage that similar industrially produced products may inflict on the environment. Such economy swings a double-edged sword against the Tyrants of Pollution.
REVIEWERS' ACCOLADES
I found [The Ecological House] to be way ahead of its time as to its ideas on building environmentally sound houses and its analysis of the differing activities of each room. This brilliant rethinking of the purpose of the various rooms was notable. I was most impressed that his thinking enabled him to divide the multipurpose "living room" into smaller "formal, passive, and active" centers that were much more efficient. The numerous drawings it contained were most helpful in illustrating the author's very important ideas on designing for the most efficient and money-saving ways to build homes, including locating the house to deal with differing climates, constructions that modified extremes of weather, and original ideas on size and layout of contents of individual rooms. This book should be in the libraries of every serious "green" enthusiast. Like I said, it was WAY ahead of its time.
      ... Beth Caldwell, Amazon Reviewer
As early as 1981 there were books like Robert Butler's The Ecological House, but they were isolated efforts that predated any broad sense of eco-friendly architecture.
      ... From Green House, Stang & Hawthorne, © 2005, Princeton Press
I believe this book could be successfully reissued as a classic.